trocco tutorial datamart definitions creating datamart definitions
07 Dec 2022

1 Minute to read
trocco tutorial datamart definitions creating datamart definitions
Updated on 07 Dec 2022

1 Minute to read
---
Note
This is a machine-translated version of the original Japanese article.
Please understand that some of the information contained on this page may be inaccurate.
summary
This page describes how to register a datamart definition with Trocco.
Creating a Datamart Definition
trocco can create and manage data marts using data stored in DWH.
To create a data mart definition for creating and managing a data mart, follow the steps below.
Move to the new datamart definition screen
Follow the steps below to access the Create New Datamart Definition screen.
Example 1: Click Create Data Mart on the Top Screen

Example 2: Click a datamart on the top screen → Click Create New Data Mart Definition on the Data Mart Definition List screen


Select the service for which you want to register the datamart definition.
Select the service for which you want to register the datamart definition from the screen for creating a datamart definition.
In this case, we will choose Google BigQuery as an example.

Enter the data mart definition information and save (register)
Follow the prompts and enter the required information.
After completing the input, click to the confirmation screen at the bottom of the screen, and then click Apply on the confirmation screen of the transition destination.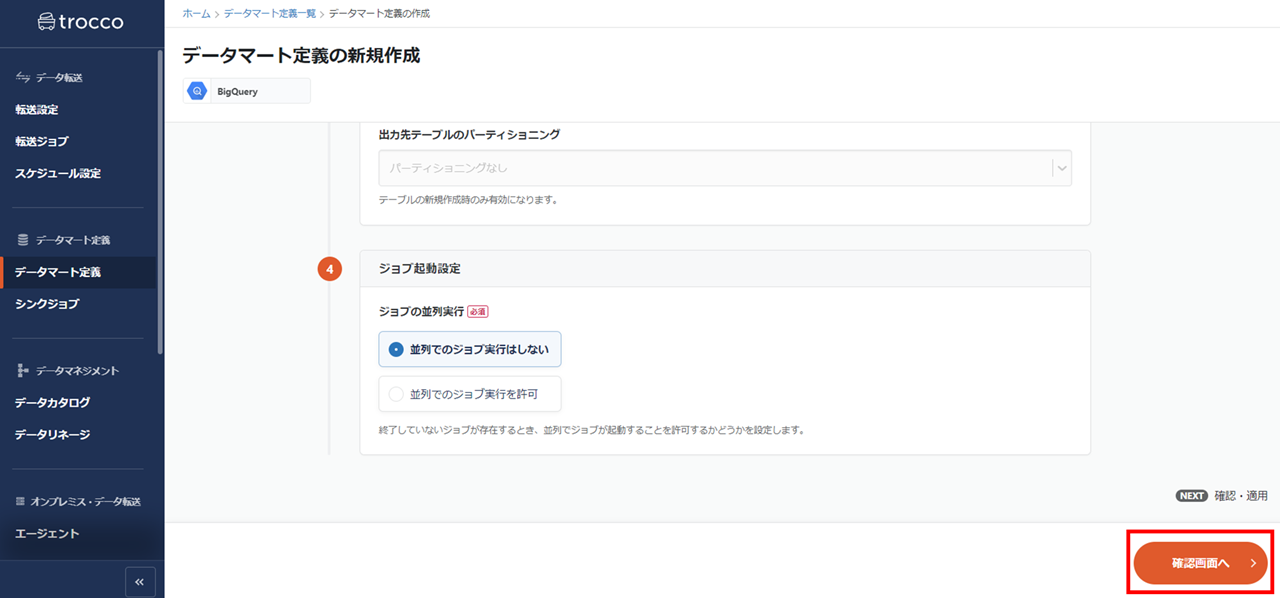 The information required to create a datamart definition depends on the service.
In addition, it may be necessary to set up or grant permissions on the service side you want to use.
Please check here for details of each service.
---
Was this article helpful?
---